January 18, 2022
Posted by Alison Iven
Meyers+Associates Welcomes Three New Principals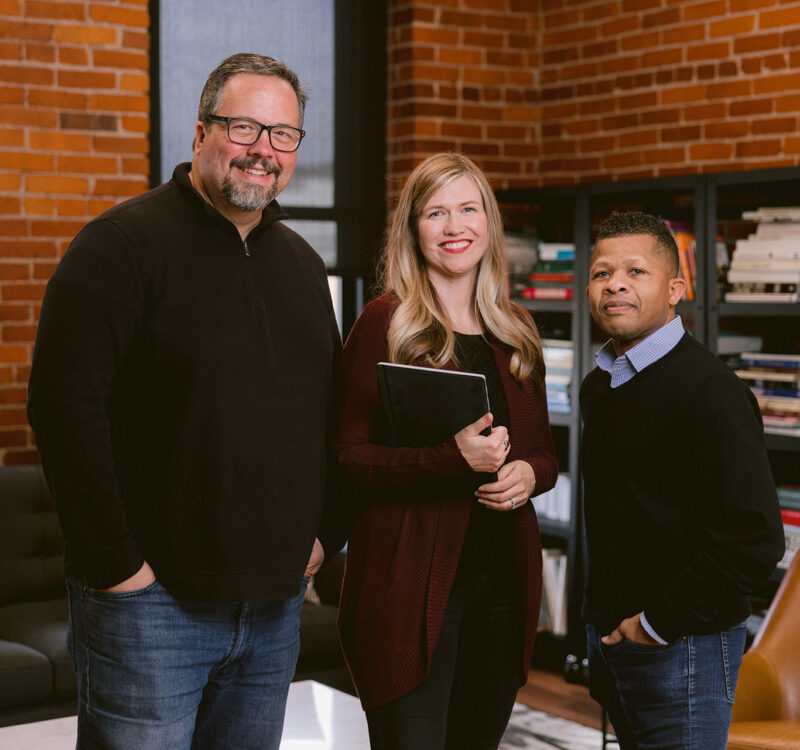 Meyers+Associates is pleased to announce the firm's newest principals: Karen Dwyer, NCIDQ, IIDA, LEED AP, Shawn Conyers AIA, NCARB, and Peter Scott, AIA, NCARB.
These promotions recognize each individual's long-term contributions to the firm and their proven leadership through mentorship and collaboration. This strategic organizational change allows Meyers+Associates to strengthen and expand its ability to serve key markets and a growing roster of clients through their focused expertise.
Three new principals at Meyers+Associates
The Principals
For 16 years, Karen Dwyer has grown Meyers+Associates' service offerings in interior design. She has developed a strong reputation with clients, associates, and the industry for her limitless passion for design and its role in establishing the identity of each unique space. Karen is committed to mentoring and assisting interior design associates in building their skillsets while playing a leading role in many of the firm's hospitality, office, retail, and mixed-use projects. She is active in the International Interior Design Association (IIDA) and has served as the Columbus chapter's president.
"After several years in the design industry, this is an incredible milestone for me," Karen reflects. "I am constantly learning from my talented colleagues and continually impressed with our growth as a team. It's an honor to be a part of such an amazing organization and is an exciting moment for all of us."
As part of Meyers+Associates for almost 20 years, Pete Scott has fostered close relationships with key clients to drive a diverse career path leading multifamily and mixed-use developments, health and wellness, retail design, and parks and recreational facilities. His notable projects include Westerville's Highlands Park Aquatic Center, Columbus' Quarry Trails development, and many thriving mixed-use and multifamily developments throughout the country. Through every project, his leadership philosophy emphasizes a collective approach to creating built environments that eloquently respond to their context that engages individuals with their communities. He serves the local design community on the Architectural Review Board in Bexley, Ohio.
"Leading is about empowering those who work with you to do great things," Pete said describing his role. "I look forward to future opportunities through continued leadership at Meyers+Associates."
Joining in 2007, Shawn Conyers's unwavering positivity and collaborative leadership approach have led to a diverse palette of projects, including hospitality, office, sports and recreation, and adaptive reuse. As the catalyst behind Meyers+Associates' most challenging and complex projects, including the Hilton Hotel at The Columbus Convention Center and the new WOSU headquarters, Shawn's leadership has propelled Meyers+Associates to continued success in designing built environments that nurture and enrich communities and individuals. He is a City of Columbus Victorian Village Commission member and a youth coach within the Bishop Watterson Eagle Wrestling Club community, having lettered in wrestling at The Ohio State University.
When asked about what this promotion means to him, Shawn said, "I'm grateful for the opportunity and look forward to building upon our current relationships while working alongside such a talented and collaborative team in my new role."
Future of the Firm
Meyers+Associates is committed to cultivating the most capable and talented design professionals, exemplified in Karen, Pete, and Shawn's ongoing leadership and strong client relationships. As we look into the future, the firm anticipates building on each Principal's strengths to grow critical services and markets through business development and professional mentorship.
Additionally, the firm congratulates interior designer Danielle Garson to her promotion to Senior Associate and her transition to the leadership team.
"I am so pleased to elevate these key members of our organization to Principals for their outstanding efforts and commitment to the company," said Christopher Meyers, founding owner and principal. "Their leadership and talents have been a driving impact on our company's success. They are integral to our future and our strategic plan, and we are eager to see them flourish."
About Meyers+Associates
Meyers+Associates is a full-service architecture and interior design firm that creates thoughtful spaces and delivers innovative solutions that invigorate communities and the people in them. Founded in 1999 and located in Columbus, Ohio, Meyers+Associates offers the abilities and experience of a large firm with the attentiveness of a small practice.
Back to all News
Let's work
together
If you have a vision, we're ready to help you see it through.
Join our
team
Calling all innovative and passionate people.