September 6, 2023
Posted by Alison Iven
Hilton Columbus Downtown Recieves Project of the Year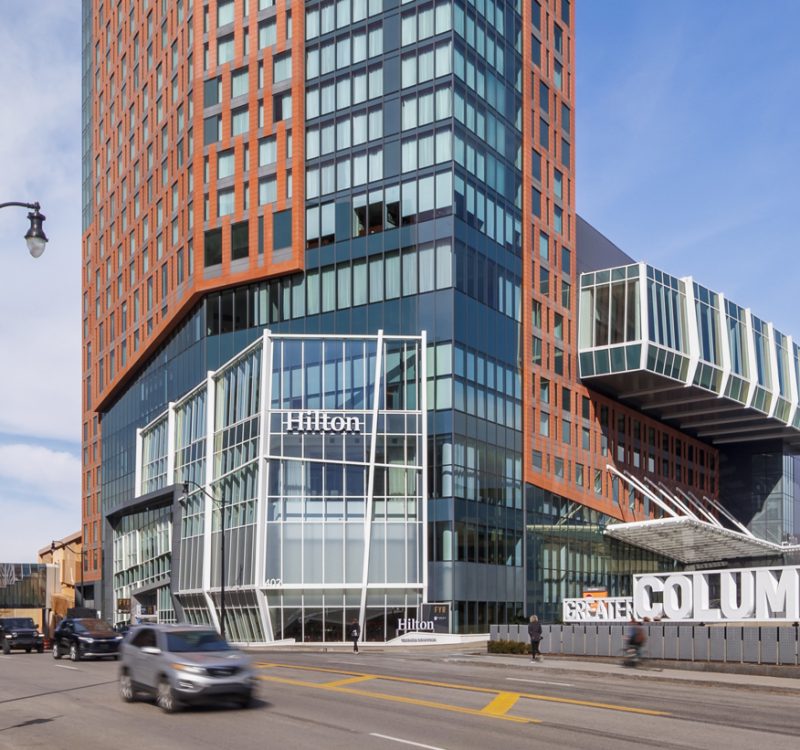 Meyers+Associates is proud to announce that the Hilton Columbus Downtown Expansion is the recipient of the Project of the Year and Penzone Hamilton Quarter, the Best New Restaurant/Retail Project in Columbus Business First's inaugural Building Columbus Awards! The Building Columbus Awards highlight new construction and renovation projects that showcase professional excellence in design, development, and construction and have a strong community impact through investment, jobs, and revitalization.
Hilton Convention Center, Columbus Ohio
Hilton Convention Center, Columbus Ohio
Hilton Convention Center, Columbus Ohio
Hilton Convention Center, Columbus Ohio
Hilton Convention Center, Columbus Ohio
The $265 million, 29-story tower added 463 guest rooms to create the state's largest hotel, expanding the city's ability to attract larger conventions.
The Hilton expansion was long hoped to be a game-changer for attracting bigger, high-profile conventions to Columbus. So far, it's worked. As of July 25, the Greater Columbus Convention Center had hosted 146 events in 2023 and signed 233 future gatherings. At this point last year, about 65 events had been held at the convention center.
The Hilton expansion's impact on the Columbus community is undeniable, and we're proud to be on the project team that included Cooper Carry, Jeffrey Beers, and Turner/Smoot.
Penzone Hamilton Quarter Exterior
Located in the salon's main gallery, the social room connects to the spas zones while creating a welcoming environment
Penzone Hamilton Quarter Welcome Zone
The Penzone brand had evolved its customer journey and employee spaces since the creation of its Dublin location and had a wealth of information on what did and didn't work. The design uses that feedback to develop a cohesive space with the brand yet introduces more flexibility and durable materials. The salon is located at a roundabout, creating complexity in its elevations. The 360-degree visibility from the street made every side viewable, and the inclusion of patio spaces brings guests spilling out into the open, activating the streetscape.
Back to all News
Let's work
together
If you have a vision, we're ready to help you see it through.
Join our
team
Calling all innovative and passionate people.