The City of Westerville's municipal pool at Highlands Park was a much-beloved facility, filled with memories but in need of updates.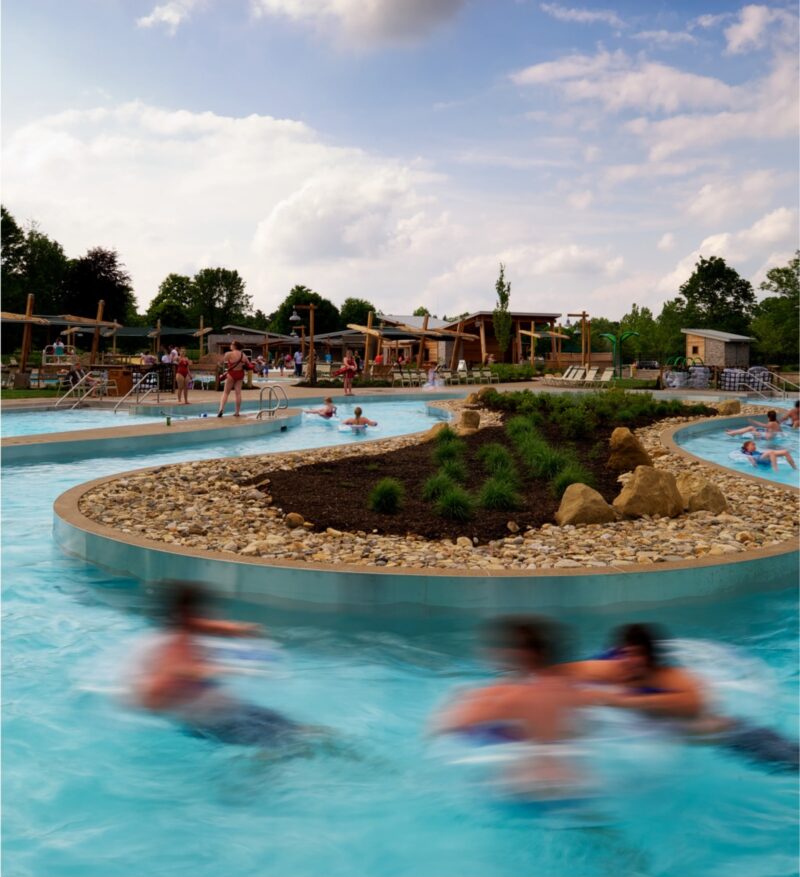 A unique location, the park sits adjacent to protected wetlands, active soccer fields and within a residential neighborhood. Meyers+Associates redeveloped the space into an amenity-filled aquatic center with sustainable principles. The project also brought the community together in myriad ways, inviting neighbors and civic groups to weigh in throughout the process.
Notably, membership increased 580 percent following project completion. Highlands Park continues to be a useful tool for education and community engagement, as well as plenty of relaxing fun. It was also the first community aquatic center to earn an architectural design award in over 30 years.
Finding ways to connect the aquatic center with its natural surroundings was paramount to this project.
More than 650,000 gallons of water are split between leisure pools, competitive lap pools, diving wells, two 30-foot water slides, a lazy river, a kids' spray ground and a baby bubbler garden. Boardwalks run throughout the space, as do green roofs, bioswales, rain water management and rain gardens. The building's natural, organic aesthetic not only allows it to feel like an inherent structure in the park, but it also offers a resort-style setting, a unique quality for a public-use facility.
City

Westerville, Ohio

Year Completed

2011

Size of Project

40.2 acres

Cost

$7.5 million

Collaborators

POD Design, Patterson Pools, Marker Construction

Recognition

AIA Columbus Honor Award 2012, OPRA Honor Award 2011, ASLA Honorable Mention 2012