September 8, 2023
Posted by Alison Iven
West Bay Club has been named "Clubhouse of the Year" by Golf Inc.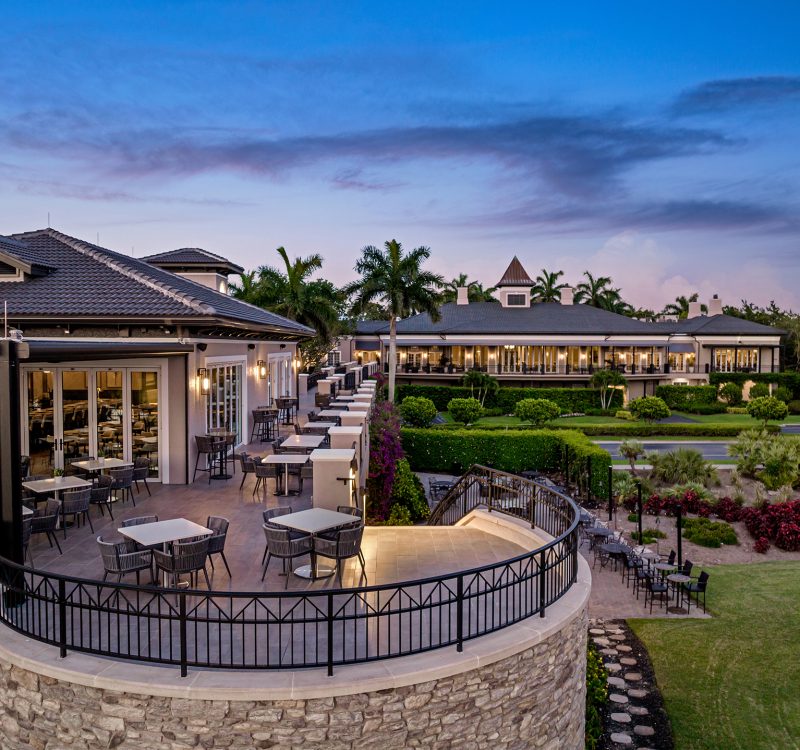 Surrounded by 868 acres of lush tropical landscape, the West Bay Club has been named "Clubhouse of the Year" in the Clubhouse Renovation category by Golf Inc. magazine, the world's only magazine for golf course developers, owners, and management company executives.
Existing clubhouse dining (left) and renovated dining (right)
The newly renovated and expanded clubhouse, community building, and non-golf amenities at West Bay were completed in early 2022. The $13.5 million multi-phase project took nearly three years to complete and included re-imagining existing facilities and creating new amenities to enhance the member experience. General Manager/COO Tom Tripoli was crucial to the vision of the renovated club.
"Nice updated design. Great mix of casual dining and fitness. I loved the operable glass walls, allowing a great outdoor feel." – Steve Cenicola, Judge
Golf Inc. magazine annually recognizes top public and private new and remodeled clubhouses in its September/October issue. Judging of all "Clubhouse of the Year" entries was based on efficiency, aesthetics, vision, and sustainability. Winners were chosen through blind judging.
Existing clubhouse exterior (left) and renovated clubhouse (right)
The renovation of the West Bay Club is intended to support the club's long-term strategic plan focused on quality facilities, services, and a high level of member satisfaction. The vision for the club's spaces was developed in collaboration with leadership and golf and residential committees that highlighted various activities and services needed to attract new members in the future. Through these meetings, it was imperative that the redesign created a unified experience throughout all the club's spaces and offered additional recreational opportunities.
The updated design and palette take cues from the club's natural surroundings and wildlife, which carries throughout the site's buildings to create a unified experience between all spaces. The completely renovated clubhouse includes a signature bar, dining areas, locker rooms, and updates to The Niblick, a casual, pub-style eatery along the course. New spaces for poolside dining and fitness were added.
The West Bay Club's commitment to excellence and dedication to member satisfaction has been acknowledged by Boardroom magazine, which has honored the club as a Club of Distinction.
Back to all News
Let's work
together
If you have a vision, we're ready to help you see it through.
Join our
team
Calling all innovative and passionate people.