A converted warehouse is transformed into a yoga studio filled with color, light, sound, and community.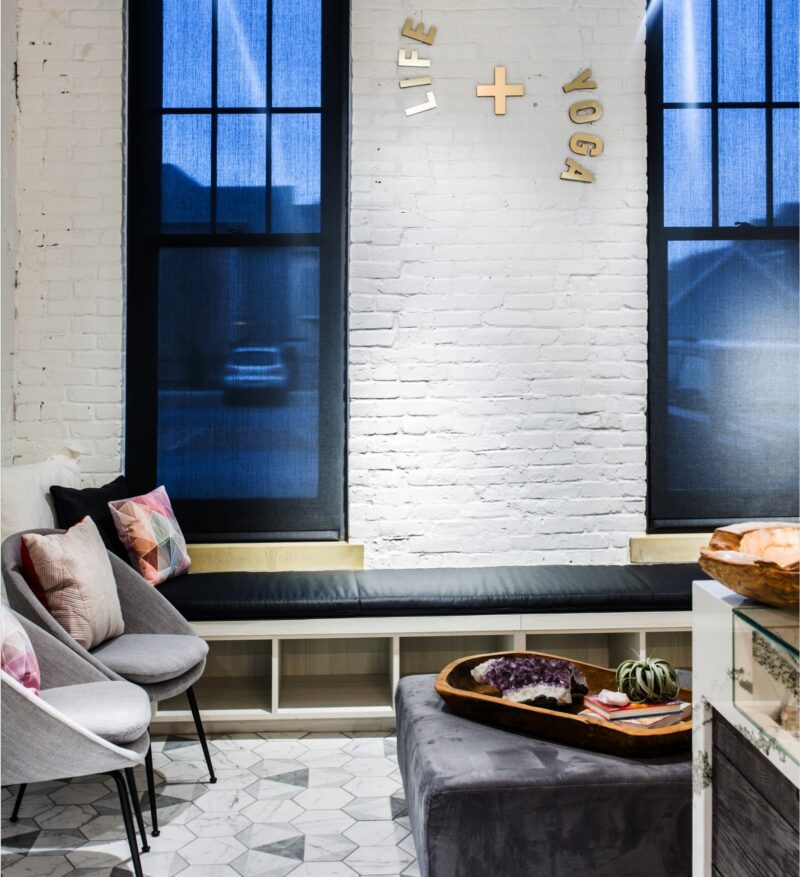 LIT Life + Yoga is housed in a historic warehouse in the heart of Columbus' Italian Village neighborhood. The studio wanted to take a non-traditional approach to its yoga practice, encouraging positive transformation alongside playfulness and community. Clean, white walls make the space a blank canvas for the studio's signature feature: a Philips Hue-colored lighting system.
In a mere moment, the room can metamorphose from calm and serene to fierce and powerful through the use of color. Gathering spaces encourage conversation, and heated floors throughout the lobby and studio immediately engage the senses, creating a dynamic yoga practice environment.
A multi-sensory experience to leave practitioners feeling energized and restored.
Known for their use of sound and color, the instructors at LIT Life + Yoga have the ability to choreograph the lighting of their classes in the same way they choreograph poses. This has drawn a community of avid yogis, and the lobby's comfortable seating and warm accents invite them to connect outside of the studio, too.
A fun challenge for our team was the inclusion of an aerial yoga system, a separate structure within the building that can hold 12 people at a time. Each unique element came together to set the studio apart in Columbus' growing yoga community.
City

Columbus, Ohio

Client

Deb Penzone

Year Completed

2018

Size of Project

1,300 SF

Cost

$350,000

Collaborators

Deb Penzon, Lincoln Construction