As a centerpiece to revitalize Dayton, AC Hotel Dayton is a part of the vibrant Water Street District, aimed at attracting younger business travelers seeking a casual yet elevated experience. With its unique location and recognition of the untapped potential in the area, the hotel stands as a symbol of Dayton's industrial past while incorporating modern design elements.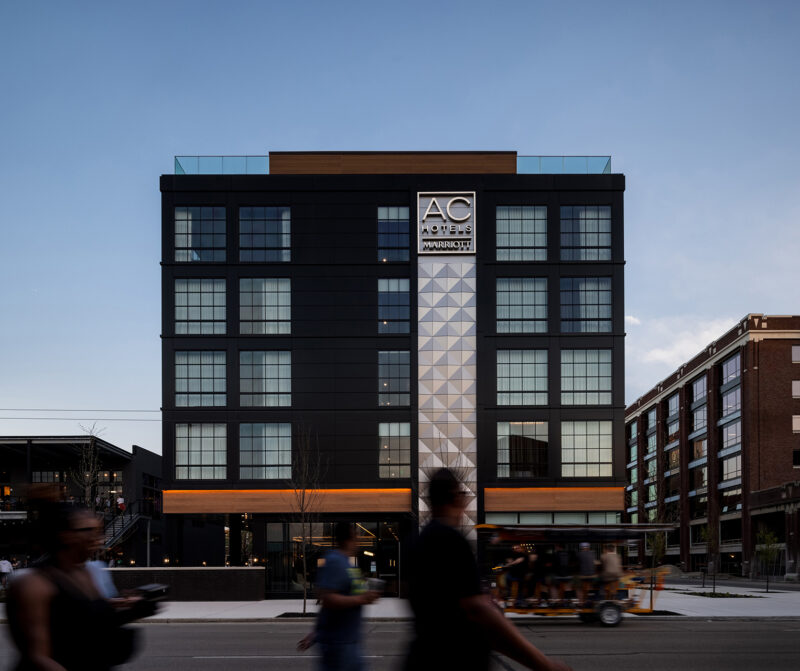 Situated next to a warehouse redevelopment with future parking or apartment opportunities, the hotel's design maximizes its key count while complementing the larger context of the district.
Faceted panels, reflecting the industrial style, change color with the sky's interaction, creating a thoughtful gradation. The intentional reflectivity of the exterior picks up the surroundings, showcasing a dynamic and visually engaging facade. Exterior lighting has been strategically incorporated to attract families on game days and draw people into the hotel.
https://meyersarchitects.com/wp-content/uploads/2023/06/AC-Dayton-Lounge1.jpg
https://meyersarchitects.com/wp-content/uploads/2023/06/AC-Dayton-Bar3.jpg
https://meyersarchitects.com/wp-content/uploads/2023/06/AC-Dayton-Bar1.jpg
The design pays homage to the city's industrial past, where Dayton was once a hub of technological advancement.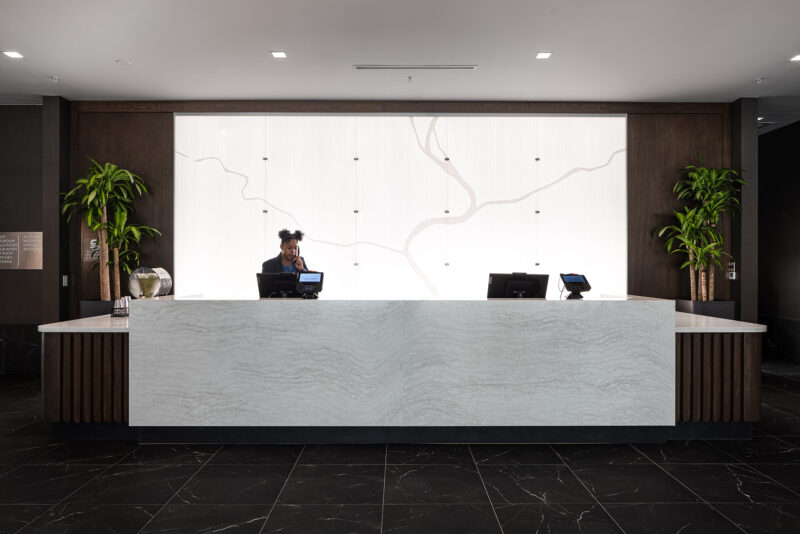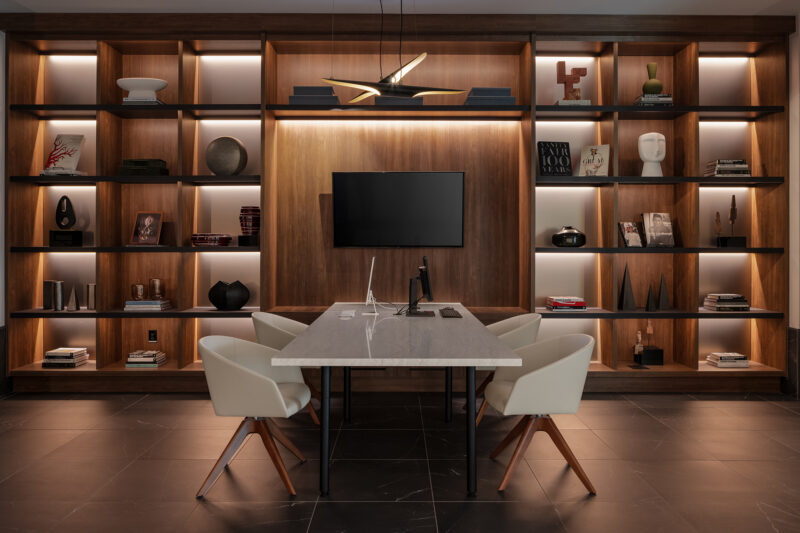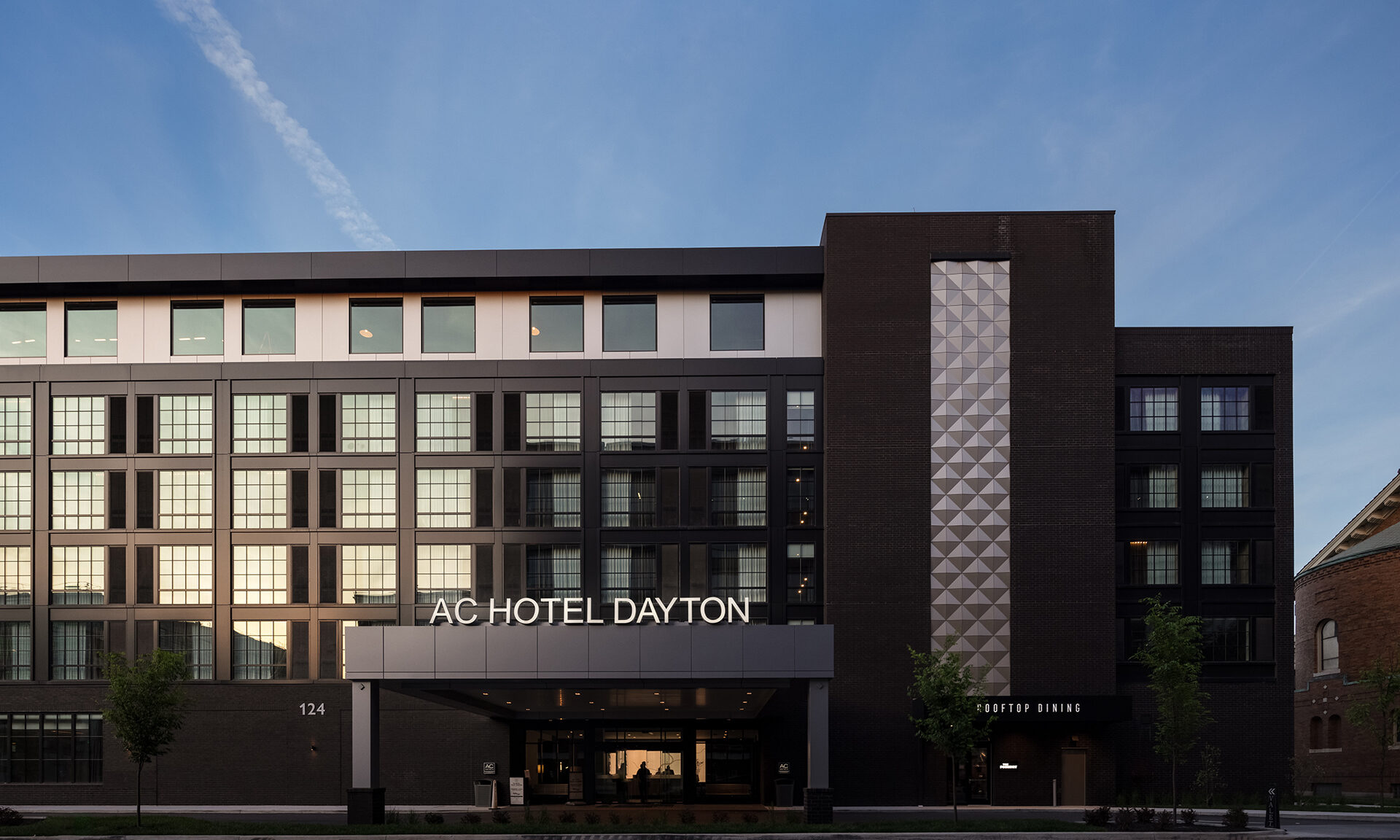 Embracing Dayton's rich history, the hotel's interiors feature a refined industrial aesthetic infused with modern design elements. Metal, glass, wood, and water-inspired elements are integrated to create a sophisticated and nostalgic atmosphere. Combined with a curated art collection, these elements create an eclectic and refined atmosphere that honors the city's past while embracing its future.
One of the standout design features is the reception area, where four backlit acrylic panels represent Dayton's five converging rivers. This design element is a starting point for guests to navigate the hotel, connecting various spaces exhibiting Dayton's historical influence through carefully chosen materials. The interior material palette includes rich wood tones, deep grays, and warm bronze, further reflecting the area's industrial history. A harmonious blend of textured upholsteries, dimensional wallcoverings, natural stones, and organic motifs adds balance and elegance to the guest experience.
What others are saying
City

Dayton, Ohio

Year Completed

2023

Size of Project

92,000 SF, 134 Keys

Collaborators

Crawford Hoying, Brackett Builders, Jezerinac Geers, M Engineering, AMBIA