Tucked into a citywide bike and walking paths and adjacent to a protected animal habitat, The Depot at Twenty Mile features a unique woven planning strategy with engaging amenity spaces focusing on community interaction.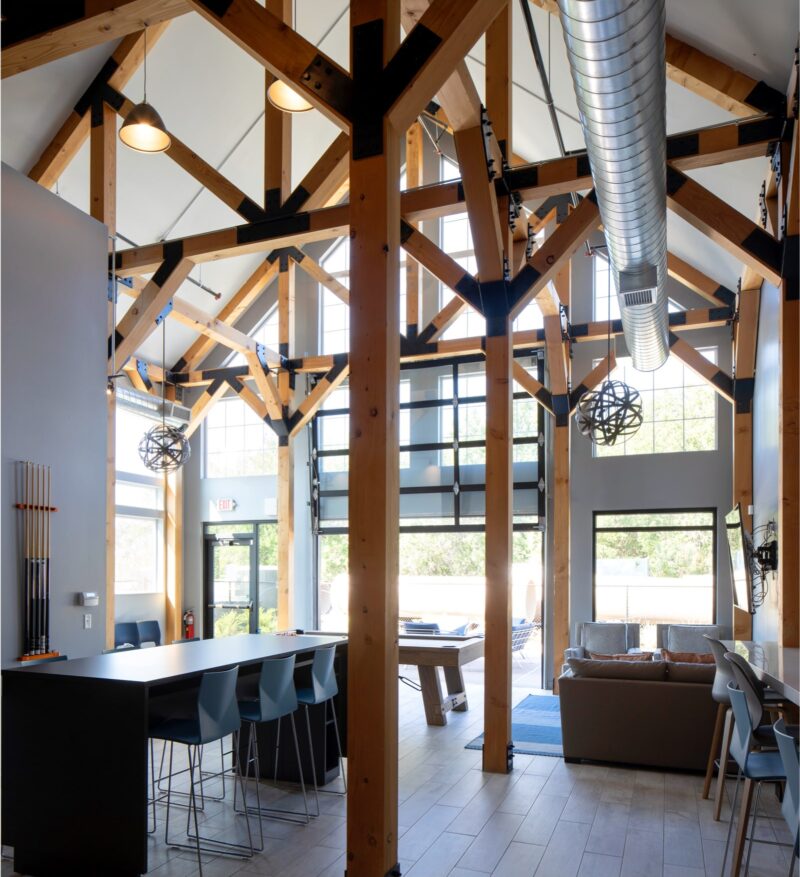 Adjacent to Cherry Creek, a protected wildlife habitat, the site was designed to integrate with the low land valley south of Denver and provide market rate, affordable military, and working housing. The site plan includes multiple easements and buildings that maximize natural features and feature large breezeways and balconies that offer panoramic mountain views—consisting of 200 apartment units, two-story townhomes, a clubhouse, pool, and garages.
The Depot's white and boxy townhomes fit neatly alongside the brightly colored apartment buildings and sleek amenity spaces, each offering a welcome departure from the more traditional look of surrounding communities.
"The Depot at Twenty Mile is proving to be a strong success, and much of that is due to the design. We hear it over and over again. You created something special, different from much of what is seen in Denver, and people are responding to it."
–Anne Klingbeil, Co-CEO, Klingbeil Capital Management
A modern aesthetic and a vibrant color scheme help the development stand out among Parker, Colorado's many multifamily communities. As a result of the distinctive design, the client has enjoyed record-breaking sales and positive tenant feedback.
The clubhouse is designed with heavy timber framing, large open interior spaces and full window walls looking out to Cherry Creek and the protected wildlife preserve. Quality materials and a prime location also contribute to The Depot's competitive edge.
City

Parker, Colorado

Client

Klingbeil Capital Management

Year Completed

2020

Size of Project

200 units

Cost

$26 million