April 20, 2023
Posted by Chris Meyers
Designing for Transformation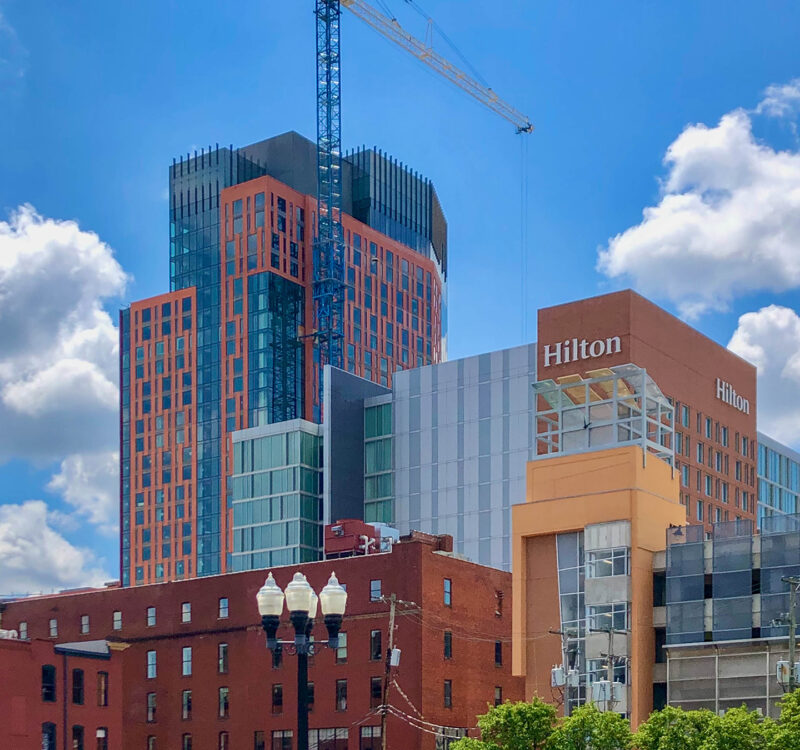 Transformational developments can look different in different communities. For some, it's creating vibrant streets. For others, affordable housing.
Regardless of the end goal, these projects support deep, systemic, and sustainable change with the potential for large-scale impact. They can attract visitors; create thousands of jobs; are magnets for talent, business, and investment; and create a positive ripple effect on the area around them, resulting in a significant economic impact for the area and its residents.
A much-anticipated project in Columbus' downtown at the intersection of N High Street and Gay St. This series of projects renovates historic buildings into housing while adding a 15-story multifamily building, galleries, and a restaurant to revitalize the area.
Transformational Mixed-Use Development (TMUD) Tax Credit
Transformational projects have the potential to completely change the fortunes of communities. However, it is inherently difficult to design for transformation or even to measure it in hindsight.
To combat these challenges, Governor Mike DeWine signed Amended Substitute Senate Bill 39 (S.B. 39) in 2020 to provide guidance and financial support to transformative projects, creating the Transformational Mixed-Use Development (TMUD) Tax Credit.
The Ohio Revised Code authorizes up to $100,000,000 in nonrefundable tax credits each fiscal year, which credits may only be applied against insurance premium taxes. To qualify, the project has to:
Demonstrate a transformational economic impact on the site and the surrounding area;
Integrate some combination of retail, office, residential, recreation, structured parking, and other similar uses into one development;
Start within 12 months of certification; and
Document the construction process.
So what's this all have to do with the practice of architecture?
According to an article by McKinsey, an often overlooked component in the "how" of any transformative project is a framework for success. This includes the people, processes, and tools for a successful execution and is where the expertise of architects and designers shines.
This conceptual rendering of the Cincinnati mixed-use project, Central & Vine has the potential to expand on the revitalization efforts of the Over-the-Rhine neighborhood.
The Role of Architect and Designer
The ideal architect has extensive experience orchestrating transformations and guiding developers through the process. This experience brings a perspective focused on what is possible, combining an objective view of best-in-class performance with a realistic plan for collaborating and coordinating with the client, city officials, community members, and the project team to understand the complex issues that matter to each group.
A cadence of regular meetings is an indispensable part of developing a transformational project, reinforcing accountability, and accelerating the implementation to meet the TMUD requirements. Sessions should be led with honesty and transparency to ensure the client and project team mutually understand problems, solutions, and priorities to keep focused on goals.
TMUD program requires reports at the start of construction, annually to document construction progress, and after completion. A robust project schedule is first developed with the client during the design phases to understand where vital milestones for the client and TMUD program impact final delivery. The project team then creates a paperwork trail through field reports and permitting information, among other things.
In recent years, the City of Dayton has been investing in the revitalization of its downtown and becoming a destination for residents and visitors through redevelopment and urban parks. Our work on the AC Hotel Dayton and The Monument Apartments has supported this goal.
For a transformational project to be successful, a company's leaders must be unified and committed to the process outlined by the State. Once embarking on the program, specific initiatives and construction changes must all be closely examined to meet stated goals and economic objectives. Establishing a smooth framework is essential for collaboration and yields rapid, dramatic, and sustainable community improvement.
Back to all News
Let's work
together
If you have a vision, we're ready to help you see it through.
Join our
team
Calling all innovative and passionate people.